The Associated Bible Students of Central Ohio is a non-denominational Christian
fellowship. We are committed to providing Bible study aids for those seeking
to know God through the study and application of His word.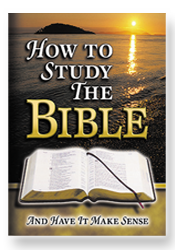 We are offering a FREE Bible study guide which
explains five helpful methods of Bible study:

1. Exhaustive Topical Bible Study
2. Study of Symbolic Language
3. Study by Time Frame
4. Study by Context
5. Study by Type and Antitype

This guide also explains an overview of God's beautiful,
harmonious plans and purposes as taught throughout
the Bible from Genesis to Revelation.
Click this link to view a PDF version of this booklet. To download, right-click on the link and choose "save target as" to a location on your computer.
For one free print copy of the booklet by postal mail (offer valid within USA & Canada only),
please submit your mailing information in the form below.
If you include your Email address, we will send you Prophecy in the News Email Reports.
We respect your privacy. We do not rent or sell your personal information.