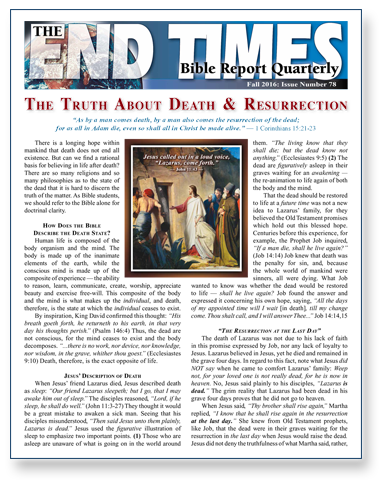 Fall 2016: Issue Number 78

The Truth About Death & Resurrection
There is a longing hope within mankind that death does not end all existence. But can we find a rational basis for believing in life after death? And, if so, where are the dead?
There are so many religions and so many philosophies as to the state of the dead that it is hard to discern the truth of the matter. As Bible students, we should refer to the Bible alone for doctrinal clarity. Discover the truth about death and resurrection.

Click the image to read a PDF
or click here

for text only HTML.

The End Times Bible Report Quarterly
is a helpful topical guide which brings understanding to current events and issues in the light of Bible teaching.

BROWSE PAST ISSUES of The End Times Bible Report Quarterly

To receive a free subscription to The End Times Bible Report Quarterly
in the USA or Canada by postal mail, or any place in the world by Email