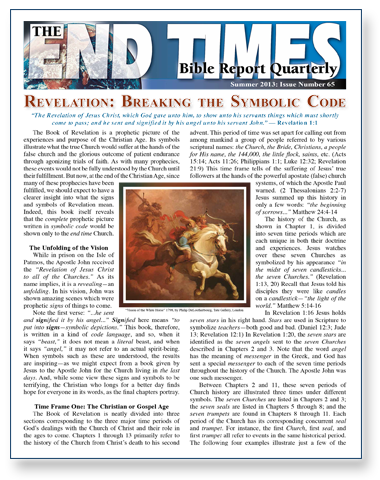 Spring 2013: Issue Number 64
THE DIVINE PLAN OF THE AGES:
A SUMMARY
The Divine Plan of the Ages is a book which has sought to clarify the beauty and harmony of the Bible. Since 1886, when it was first published, millions of copies have been placed in the hands of those searching for the correct understanding of God's plan. Each of the fascinating subjects covered thoroughly in its 16 Chapters are like keys which unlock the Bible's treasures. This End Times Issue is a summary of those chapters.

Click the image to read a PDF
or click here

for text only HTML.

The End Times Bible Report Quarterly
is a free publication provided by The Associated Bible Students of Central Ohio.
It is a helpful topical guide which brings understanding to current events and issues in the light of Bible teaching.

BROWSE PAST ISSUES of The End Times Bible Report Quarterly

To receive a free subscription to The End Times Bible Report Quarterly
in the USA or Canada by postal mail, or any place in the world by Email