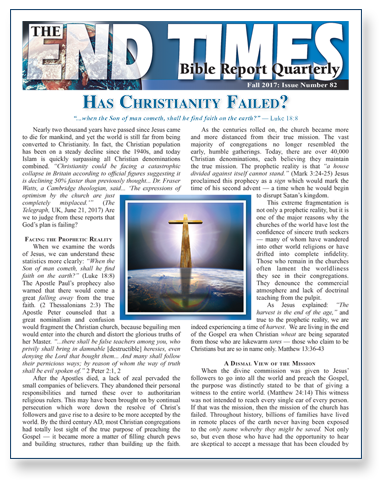 Fall 2017: Issue Number 82

Has Christianity Failed?

Nearly 2000 years have passed since Jesus came to die for mankind, and yet the world is still far from being converted to Christianity. In fact, the Christian population has been on a steady decline since the 1940s, and Islam is quickly surpassing all of the 42,000 Christian denominations combined. Is this a prophetic reality that God anticipated? Learn the past, present and future mission of the true Church.

Click the image to read a PDF
or click here

for text only HTML.


The End Times Bible Report Quarterly
is a helpful topical guide which brings understanding to current events and issues in the light of Bible teaching.

BROWSE PAST ISSUES of The End Times Bible Report Quarterly

To receive a free subscription to The End Times Bible Report Quarterly
in the USA or Canada by postal mail, or any place in the world by Email