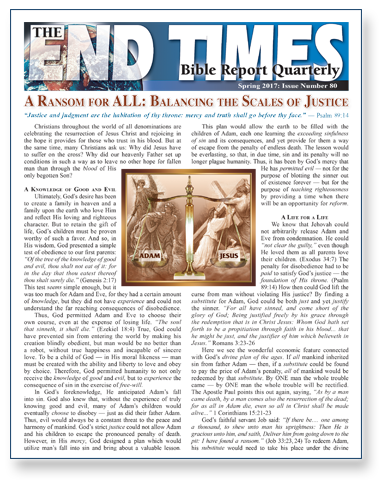 Winter 2017: Issue Number 79

A RANSOM FOR ALL:
Balancing the Scales of Justice

Christians throughout the world celebrate the resurrection of Jesus Christ and rejoice in the hope it provides. But many ask us: Why did Jesus have to suffer? Why did our heavenly Father set up conditions in such a way as to leave no other hope for fallen man? Learn how Jesus' sacrifice will one day serve to create a family in heaven and upon the earth which reflects God's loving and righteous character.

Click the image to read a PDF
or click here

for text only HTML.


The End Times Bible Report Quarterly
is a helpful topical guide which brings understanding to current events and issues in the light of Bible teaching.

BROWSE PAST ISSUES of The End Times Bible Report Quarterly

To receive a free subscription to The End Times Bible Report Quarterly
in the USA or Canada by postal mail, or any place in the world by Email