Israel
The rebirth of the State of Israel in 1948 was a miracle of history. Never before has a nation been destroyed, its people dispersed to the ends of the earth and then—nearly two thousand years later—regathered to its homeland and re-established as a nation.
"The re-establishment of Israel in the land of Palestine is one of the events to be expected in this Day of the Lord...they are to be planted upon 'their land,' the land which God says He had given them, the land which He had promised to Abraham saying, 'Lift up now thine eyes and look from the place where thou art...for all the land which thou seest, to thee will I give it, and to thy seed forever.'" Thy Kingdom Come, p. 245
Read online booklet: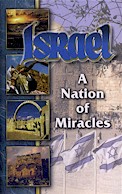 See the video: Israel, Fulfilling Bible Prophecy
Read online booklet: The Israeli-Arab Peace Process and Bible Prophecy: An Open Letter from Christians to Christians
Read online booklet: The Time to Favor Zion Has Come!
Read online newsletter: Israel: Fulfilling Bible Prophecy
Read online newsletter: Nation of Miracles
Read online newsletter: Jerusalem: Caught in the Crossfire
Read online booklet: This Land Is Mine