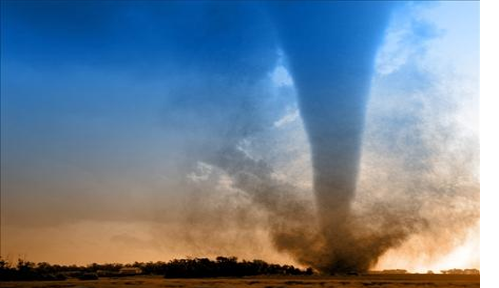 Extreme weather events such as seen in the news lately leave paths of destruction, not just upon the earth, but especially upon the hearts and minds of those who suffer loss. Will weather extremes always be? When will God say, "Peace, be still" to the violent storms of life?
Regrettably, many call natural disasters such as tornadoes, hurricanes and floods "acts of God." But are they? Others have gone so far as to say that God is punishing those in the path of extreme weather, but would God really punish innocent men, women and children indiscriminately? In the case of tornadoes, one house is left standing while another is completely demolished. Does this mean that one family was righteous and the other evil? Of course not! Most of the people whose lives have been devastated by extreme weather have been honest, good-hearted people.
If God is the author of such horrific tragedy, then why did Jeremiah state that God's eyes "run down with tears night and day" when He sees His creation suffering? (Jeremiah 14:17) And, why did the Apostle John state that "God is love," and that He has promised a time when He will wipe away all tears, sorrow and death? (1 John 4:16; Revelation 21:4) These tragedies are certainly not "acts of God," but random acts of nature on this yet to be perfected planet.
The Bible foretells of an everlasting Kingdom to come where death and destruction will be no more. Weather extremes throughout the earth will cease to destroy the lives of innocent people. In God's Kingdom, mankind will exist in a perfect Garden of Eden condition worldwide, such as Adam experienced before Satan's deception led him into disobedience. When Satan intervened in the Garden and led Adam into sin, the result was the beginning of sorrow—not only to mankind, but also to the earth. "Cursed is the ground for thy sake." (Genesis 3:17) Yes, our first parents were cast out of paradise into the unfinished earth, where the components of nature were still unstable. Continuing to labor under the Adamic curse, mankind has been subjected to sporadic upheavals of nature, as yet, unbalanced. Yes, Satan, filled with pride and rebellion, has been the underlying cause of sickness, tragedy and death. And now, he knows his days are numbered, and is fighting to keep control. The Apostle Paul called him "the god of this world." 2 Corinthians 4:4
Despite the extreme suffering mankind has experienced generation upon generation, something constructive will come from it. God realizes the enormity of human suffering, and, from a time "before the foundation of the world," He planned for the resurrection of all who have ever lived, and an opportunity to gain everlasting life. (1 Peter 1:19, 20) Because "God is love," He intends to turn these cursed conditions into an opportunity to teach mankind the extreme consequence of sin and rebellion. (1 John 4:7; Genesis 3:17) Experience with Satan's evil world will teach mankind the everlasting lesson of trust, loyalty and obedience to our all-wise Creator. "It is a difficult exercise which God has imposed upon the sons of Adam to develop themselves by it." (Ecclesiastes 1:13—Fenton Translation) Note that God does not cause the evil, but has permitted it for a period of time. He is unwilling that any should perish, but wills, on the contrary, that all shall have an opportunity to turn to Him that they may have everlasting life. (2 Peter 3:9; 2 Timothy 2:3, 4) It is for this very purpose that Messiah's Kingdom will be established in great glory and with full power. In due time it will bring the salvation for which the poor groaning creation has so long waited.
Yes, the entire creation is waiting for and longs for a better day — one without the groaning, travail, pain and the sorrow of death. Both the Old and the New Testaments are saturated with words of promise and hope. All the prophets spoke of the "restitution of all things." (Acts 3:21) "And I will shake all nations, and the desire of all nations shall come." Haggai 2:7
Joy Cometh in the Morning
No more natural disasters: "They shall not hurt nor destroy in all my holy mountain..." Isaiah 11:9
No more terror and evil: "No lion shall be there, nor any ravenous beast..." "And there shall in no wise enter into it anything that defileth, neither whatsoever worketh abomination, or maketh a lie…" Isaiah 35:9; Revelation 21:27
No more dying: "Death where is thy sting, grave where is thy victory." "…and there shall be no more death..." 1 Corinthians. 15:55; Revelation 21:4
No more works of Satan: "For this purpose the Son of God was manifested, that he might destroy the works of the devil." 1 John 3:8
No more homelessness or starvation: "They shall build houses and inhabit them; they shall plant vineyards and eat their fruit. They shall not build and another inhabit. They shall not plant and another eat." Isaiah. 65:21-23
No more sickness: "And no inhabitant will say I am sick." "Then the eyes of the blind shall be opened, and the ears of the deaf shall be unstopped. Then shall the lame man leap as an hart, and the tongue of the dumb sing..." Isaiah 33:24; Isaiah 35:5
No more wars: "They shall beat their swords into plowshares and their spears into pruning hooks. Nation shall not lift up sword against nation neither shall they learn war anymore." Micah 4:3
No more sadness: "…good tidings of great joy, which shall be to all people." "…they shall obtain joy and gladness, and sorrow and sighing shall flee away." Luke 2:10; Isaiah 35:10
No more fear: "The wolf also shall dwell with the lamb, and the leopard shall lie down with the kid; and the calf and the young lion and the fatling together; and a little child shall lead them." Isaiah 11:6
To learn more about the compassions of God for this poor groaning creation
and what His plans are to put an end to all suffering and death,
please click this link to read one of the most comforting booklets on our web site:
And God Cried: Why God Permits the Evil Which Causes Suffering